The Shepherds Were Surprised Messengers
Today shepherds are thought of in a positive light. The life of a shepherd is looked upon with a romantic envy by people whose lives are busy without end. Those who serve in pastoral ministry are called shepherds of the flock of God. It's a noble calling.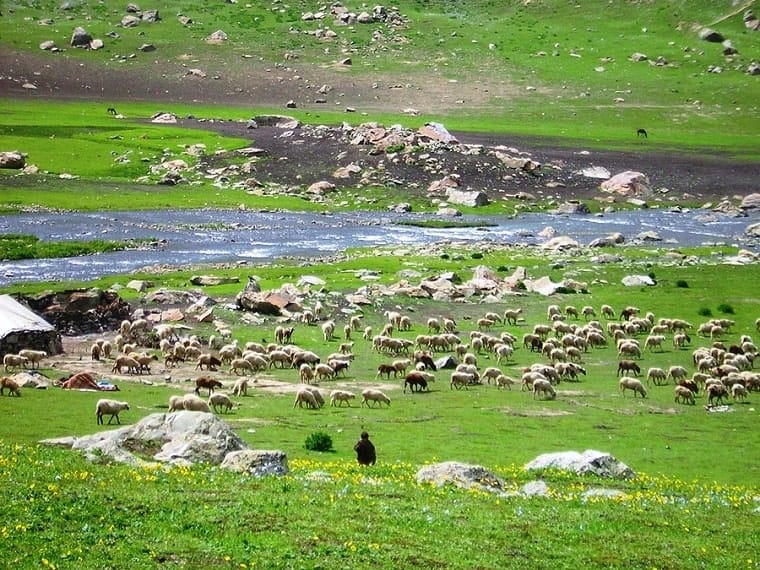 It's hard for us today to imagine how people in Jesus' day felt about shepherds. They were despised, the lowest rung on the social ladder. Rabbis in Jesus' day openly wondered how God could be compared to such a lowly and despicable role in Psalm 23.
Who do you think has the lowest, least desirable job in our world today? Perhaps it would be people who sort through garbage in dumps to find something of value to sell. People didn't like and didn't want to spend time with shepherds.
So it may have been that the shepherds were as surprised as anyone that the angel told them about Jesus' birth. Then for Luke to tell us they were actually the first ones to be told is even more amazing!
8 And in the same region there were shepherds out in the field, keeping watch over their flock by night. 9 And an angel of the Lord appeared to them, and the glory of the Lord shone around them, and they were filled with great fear. Luke 2:8-9
There were plenty of "good" people to tell. Certainly the priests and religious leaders fit into that category. There were also godly priests like Zechariah. In addition there were other faithful people looking for the coming of the Messiah. Luke 2:25-38
But the angel passed them all by on the way to the countryside near Bethlehem.
10 And the angel said to them, "Fear not, for behold, I bring you good news of great joy that will be for all the people. 11 For unto you is born this day in the city of David a Savior, who is Christ the Lord. 12 And this will be a sign for you: you will find a baby wrapped in swaddling cloths and lying in a manger." 13 And suddenly there was with the angel a multitude of the heavenly host praising God and saying, 14 "Glory to God in the highest, and on earth peace among those with whom he is pleased!" Luke 2:10-14
What God's Choice Of the Shepherds Teaches Us
God doesn't see people the way we do. 1 Samuel 16:7 The angel told the shepherds Jesus was born "unto you." They were as important as anyone else. So are you!

God chooses whom He will. Romans 9:14-16 God blessed these despised men with a joyful message to change their lives. He has the exact same message for you and me.

God doesn't choose the wise or strong. 1 Corinthians 1:26-27 The wise and strong don't need anything. Do you need God today?

God chose well. The shepherds were the first evangelists!
15 When the angels went away from them into heaven, the shepherds said to one another, "Let us go over to Bethlehem and see this thing that has happened, which the Lord has made known to us." 16 And they went with haste and found Mary and Joseph, and the baby lying in a manger. 17 And when they saw it, they made known the saying that had been told them concerning this child. 18 And all who heard it wondered at what the shepherds told them.
God showed who He values in choosing the shepherds as the first to learn of Jesus' birth. As those who are chosen by God may we be as faithful as the shepherds in sharing the good news of Jesus!