This is the second in a series of short stories in which I take the biblical account of Christmas and weave in details as I imagine they happened. In this story I imagine what Mary may have written if she kept a diary. The Bible is inspired by God, my writing is not. I hope my additions make this story come to life personally for you.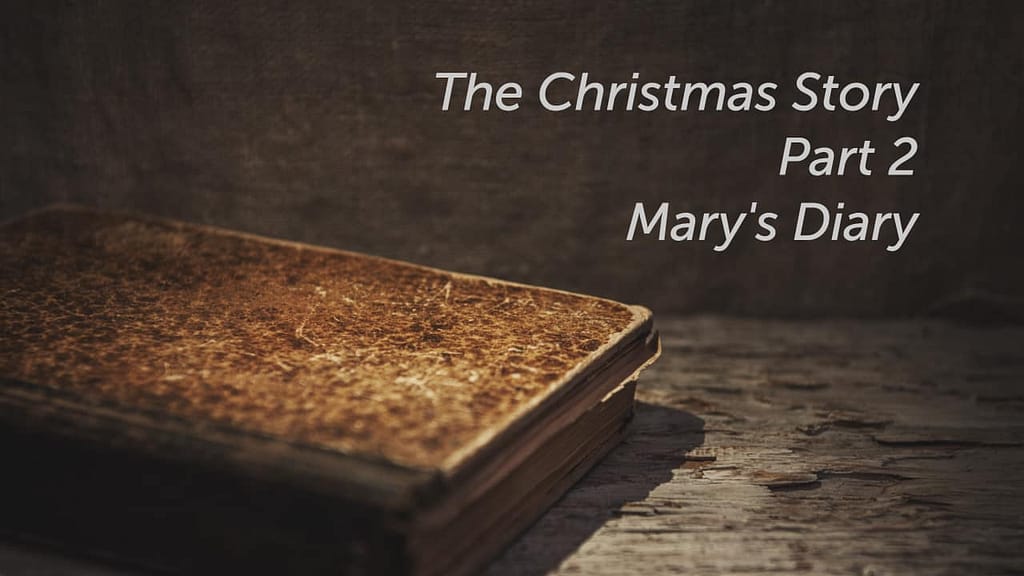 The Christmas Story Part 2
Wednesday
I dreamed of this all my life. The matchmaker stopped by today. Mother made me leave as soon as she arrived. I want to find out what happened, but it isn't proper for me to ask. It wasn't a surprise she came by our home. I noticed her talking with my parents in the market. I wondered if it was just polite conversation or if it was about me. Now I'm certain.
My girlfriends and I have fun wondering what married life is like. We see bachelors and imagine being their wife. Sometimes we squeal and make faces when we see the skinny, simple-minded boy down the street or the old, fat widower. Every conversation ends the same. We dream about marrying the most handsome and strongest man in the village. Then we argue about which one of us will end up marrying him.
The matchmaker doesn't talk as much as she shrills. Her voice reaches you before you see her. She knows everyone, and everyone likes her. She's a reliable source for the latest gossip. By now everyone in town is talking about her visiting us. My friends will expect all the details. I wish I had something to tell them!
Friday
As I expected, my friends told me everyone is gossiping about the matchmaker's visit to my house. They are excited for me. I disappointed them when I said my parents didn't tell me anything. They weren't satisfied with that so they decided they would choose a husband for me. Our fun time turned into teasing. The focus was all on me. They were not kind as they pointed out the strengths and weaknesses of each potential suitor. I tried to laugh but was too anxious to enjoy it. As I looked at each man, I realized my dreams could turn into a nightmare.
Sunday
I've still had no word from my parents about a possible betrothal. Today I saw Joseph and his father building a new house in town. Both noticed me and smiled. I wonder! Maybe I'm just a silly girl. What if he were the one?
Tuesday
He is the one! I am going to marry Joseph!
This morning Mother told me Joseph was coming over to talk with Father. He and Father each had representatives who negotiated for them. They agreed! I am betrothed to Joseph.
Joseph is a kind, quiet, hard-working man. Everyone likes him and says good things about him. Today I found out he is a man of faith.
We sat together to talk. It was our first conversation. He told me he wants to have a large family with God at the center. He promised to work hard and with God's help provide for our needs. We will live with his parents until God provides the way for him to build us a home here in Nazareth.
Thank you, God! I'm so excited. I won't sleep much tonight.
Thursday
My friends almost knocked me over as they ran to hug me today. I can't stop smiling! The wedding is months away, but that's okay. Things could not be better! Thanks be to God.
Monday
I almost can't believe I'm writing this. An amazing thing happened. An angel visited me. It's incredible to write that, but it happened.
The Bible says angels visited people in the past, but I never expected it to happen. His name was Gabriel. One moment I was alone and the next he was there. I saw him and couldn't move. No one was with me. I wanted to run! Then he spoke. He assured me I had nothing to fear. He said I am favored by God.
Then he told me why he was speaking with me. He said I would conceive and give birth to a son. I would call Him Jesus and He will be great and called the son of the Most High. The Lord God will give Him the throne of His father David, and he will reign over Jacob's descendants forever; His kingdom will never end.
God filled me with peace as he talked. It was an angel standing before me but I wasn't afraid. My sense was that what he said was true. But I didn't understand. How would it happen? When would it happen? I'm a virgin.
He said the Holy Spirit will come upon me and the power of the Most High will overshadow me. My child will be the Son of God.
Then I understood. God chose me to be the mother of the Messiah.
Then Gabriel told me Elizabeth, my cousin, is pregnant in her old age. That surprised me! "For no word from God will ever fail," he said. That meant God was keeping His word to send the Messiah, through me.
This is an honor. "I am the Lord's servant. Fulfill your word in me," I said.
Then he left. What do I do now? God, please help me.
Monday
I can't put the visit from Gabriel out of my mind. My entire world has changed but I'm the only one who knows it! Everyone keeps asking me what's wrong. I wish I could say, "Nothing's wrong except an angel visited me and told me I will be the mother of the Messiah even though I'm still a virgin."
I want to talk to someone, my parents, my friends, or Joseph, but I can't. Everyone will think I dreamed it up. There's one person I can tell, Elizabeth. I will visit her. My brother will accompany me. We leave tomorrow.
Friday
We arrived at Elizabeth and Zechariah's last night. It took three days, but I don't remember the journey. Every waking moment I contemplated how to tell Elizabeth. I ate little, slept little and said even less. My brother stopped asking what was wrong when all I did was smile weakly and shrug. It's hard to keep a secret from those I love!
My worry was for nothing. I didn't have to tell Elizabeth.
I walked in and called out her name. The Holy Spirit filled her at that moment. I froze as she said in a loud voice, "Blessed are you among women, and blessed is the child you will bear! But why am I so favored that the mother of my Lord should come? As soon as the sound of your greeting reached my ears, the baby in my womb leaped for joy. Blessed is she who has believed the Lord would fulfill His promises to her!"
Then the Holy Spirit filled me, and I responded, "My soul glorifies the Lord and my spirit rejoices in God my Savior, for He has been mindful of the humble state of His servant. From now on all generations will call me blessed, for the Mighty One has done great things for me—holy is His name. His mercy extends to those who fear him, from generation to generation. He has performed mighty deeds with his arm, He has scattered those who are proud in their inmost thoughts. He has brought down rulers from their thrones but has lifted up the humble. He has filled the hungry with good things but has sent the rich away empty. He has helped his servant Israel, remembering to be merciful to Abraham and his descendants forever, just as he promised our ancestors."
She was just as surprised as I was when I said that. We hugged and cried tears of joy, and for me, relief. I was with someone who understood what was happening.
We spent the rest of the day telling our stories. She said Zechariah saw an angel when serving in the temple. The angel told him they would have a son. Zechariah doubted his word. The angel told him because of his lack of faith, he wouldn't be able to speak until the boy was born. She is in her sixth month, so it will be a while before Zechariah can tell them everything that happened. Her son is to prepare the way for my son.
I told her about Gabriel's visit. I shared that each day I thank God for this privilege. But I struggle as I try to imagine the future. It isn't clear. I want it to be! I asked her how do I share this with Joseph? She said this is from God. God will give me favor with Joseph. She's right.
Monday
These past few days have been a delight. I'm sleeping well and I have my appetite back. Elizabeth has been a great encouragement. We've shared our hopes, dreams, and fears for the days ahead. We've talked about the promises from God's word about the Messiah. She knows the Bible well. It's exciting to read about the Messiah and imagine Him being my son. It doesn't seem real.
I will stay for a few months. Elizabeth can use my help around the house. I can use her help in preparing for when I tell Joseph.
Wednesday
Elizabeth will soon give birth to her son. It's time for me to return home. The past three months have flown by. I'm in my fourth month and am showing I am with child. It isn't too obvious when I wear loose clothing. I won't be able to hide it for long. We leave tomorrow morning. I'm ready. I need to tell Joseph.
Friday
I'm home. So far no one has noticed I am pregnant. Everyone wanted the latest news about Zechariah and Elizabeth. I was more than happy to give it to them. Joseph stopped by to see me. There were too many people around for us to talk privately. We arranged a time to talk. Lord give me wisdom and help Joseph understand.
Monday
My conversation with Joseph didn't end well.
It started great. When I saw him and he greeted me it seemed my heart would burst. Would he still be smiling after I told him everything?
He asked about my trip. My mind went blank. I paused. What should I say? Everything! How do I start? I hoped and prayed he would understand.
He looked puzzled as I took a deep breath and began. My voice quivered. I said, "Four months ago I was visited by the angel Gabriel." His puzzlement turned to surprise.
Then I explained every word and every detail. When I said, "The angel told me I would become pregnant with a son, God's Messiah," Joseph looked away. Was he embarrassed or angry?
Quickly I continued. "But I'm a virgin," I told Gabriel. "How was that possible?"
"The Holy Spirit would come upon me," he said.
I told Joseph I wanted to tell him then, but I feared he wouldn't believe me. Since the angel explained about Elizabeth's miraculous pregnancy, I concluded she would be the best person to talk with first. And she was! That was why I visited her. I described how she greeted me when I walked in the door and my spirit-filled response to her. Next I told him the details about how Elizabeth told me Gabriel visited Zachariah to tell him they would have a son in their old age and that their son would be the forerunner for the Messiah.
Finally, I whispered, "It happened, Joseph, I'm pregnant."
He stood without looking at me, turned and walked away. What do I do now?
Monday
It's been a week. Not a word from Joseph. I spend my time alone, crying and praying. Mother keeps asking what's wrong, but I can't talk to her, not yet. God, please help me.
Tuesday
Joseph came by today. The moment our eyes met I saw everything was okay.
He said at first he didn't accept my story. No virgin has ever become pregnant. Joseph assumed I betrayed him. But he didn't want to shame me. When he considered his options, he decided not to tell anyone or seek counsel because he was so ashamed.
It hurt me to hear how he felt. He saw my reaction and said, "Don't be upset. It's okay, let me finish."
He continued. Even though he didn't want to do it, he decided to divorce me. Before he could do so an angel of the Lord appeared to him in a dream. The angel said, "Joseph son of David, do not be afraid to take Mary home as your wife, because what is conceived in her is from the Holy Spirit. She will give birth to a son, and you are to give Him the name Jesus, because He will save his people from their sins."
Then he asked me to forgive him for not believing me. My heart melted. The visit by the angel confirmed God chose me to be the mother of the Messiah. He is humbled God has also honored him with this privilege. He knows the next few months will be hard but he's sure God will help us.
Thank you, Father, for blessing me with a husband who loves and trusts you. Thank you I no longer have to go through this alone. Thank You for this child.