Mary An Unlikely Choice
We now come to Mary, the fifth character mentioned in the Christmas story. Like others in this story she seems an unlikely person for her role. She was an unlikely choice to be the mother of Jesus:
because of where she lived. She lived in the small, insignificant village of Nazareth, not in the royal city of Jerusalem.
because of her age. Young women were betrothed to be married as young as 12 years old. It's just a guess but she may have been around 16 years old.
because of her status in life. She had none. She was a common young girl.
because she didn't seek her role. Unlike Zechariah and Elizabeth who prayed for a son, Mary uttered no such prayers.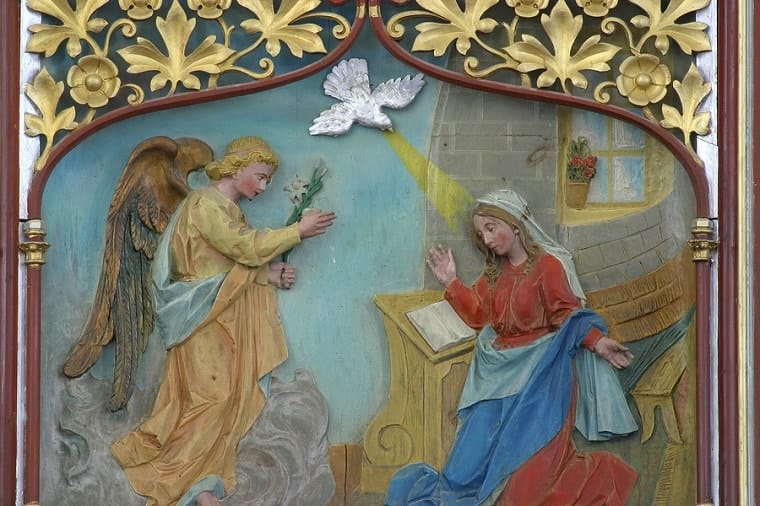 Yet God chose her. Think about this for a moment. She wasn't just chosen from all of the women who were alive at the time. She was chosen from all women who ever lived! God could have chosen any woman at any time. If you're a woman reading this He could have chosen you. That would have changed your life a little bit, don't you think?
God's Choice of Mary
Why did God choose Mary? It's true she was a woman of great character. But we don't see that character until later in her life, well after she was chosen. Here's the reason Gabriel gave her,
And he came to her and said, "Greetings, O favored one, the Lord is with you!"

And the angel said to her, "Do not be afraid, Mary, for you have found favor with God." Luke 1:28, 30 ESV
Gabriel told Mary she was chosen because she found favor with God! The word "favor" means to show kindness or to be gracious toward someone. God decided to give her something she didn't ask for, the incredible privilege of being the mother of Jesus!
God didn't give her this privilege because Mary earned it. Grace isn't based upon what one does. God gave her this privilege out of kindness to her. That's what the Scripture says.
Mary's Favor And Our Favor
As I read this story I can't help but wistfully think, "How wonderful it must have been to experience God's favor like that!" I did a search to see if verb "found favor" is used anywhere else in the Bible. I found it in one other place.
In love he predestined us for adoption as sons through Jesus Christ . . . to the praise of his glorious grace, with which he has blessed [favored] us in the Beloved. Ephesians 1:5-6
The word translated "blessed" is the same Greek word translated "favored" in Luke 1. God has favored you and me like he favored Mary! There could only be one mother of Jesus. God has been kind to all who believe in Jesus and favored us by adopting us into His family as His children.
So I do get to experience God's favor after all, as His child. That's actually pretty cool. I'm in! What about you? Spend the day today thinking about what that means and it will change your day!