God's Goodness Was Evident Everywhere We Went!
It's great to be home. It was also great to have the opportunity to teach and preach God's Word in some unexpected ways. This was quite a missionary journey for us! Here is a map of the different locations where we ministered.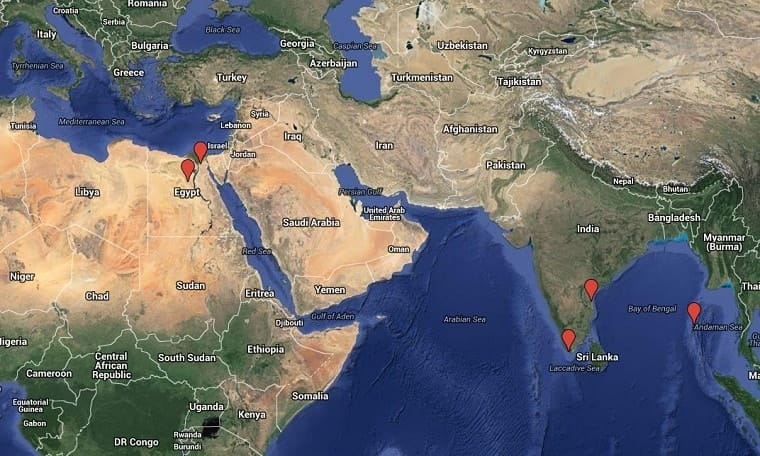 God's goodness was with us protecting us as we traveled.
We traveled for 21 days.

We flew 12 different times covering over 25,000 miles. We were in Cairo when the Russian Jet Liner crashed in the Sinai Peninsula. A few days later we flew over the general area where it crashed.

We drove over 600 miles. We were in a car accident in Cairo with no injuries. If we spoke Arabic I think we would have learned some new words from our driver (who was not at fault).

We ministered in two countries, India and Egypt. We also spent a lot of time in Abu Dhabi of the United Arab Emirates with four layovers but never left the airport.

We ministered in five different cities: Port Blair, Parassala and Nellore in India; Cairo and Minya in Egypt.
God's goodness was evident throughout our ministry.
We taught the Stand Firm Seminar four times.

I had the opportunity to preach twice in India. Once in a church on a Sunday and once at an impromptu (for us) neighborhood meeting.

We had the opportunity to pray for many individuals as they shared their needs with us.

We trained over 450 pastors and leaders in India.

We trained over 60 pastors, leaders and Christians in Egypt.

Our teaching was enthusiastically received everywhere we went.
God's goodness was evident in our ministry partners.
Pastor Raja and Sheba Wilson in India are our ministry leaders in India. They have a vibrant growing ministry in the Andaman and Nicobar Islands and provided excellent leadership in scheduling and coordinating the pastors' conferences. They worked with local volunteers that put in many hours to bring these about.

The Middle East Leadership Training Institute (MELTI) in Cairo and Minya was our ministry contact in Egypt. It is made of a large team of dedicated servants of the Lord. Ester William and Wafaa Zaky coordinated and provided the leadership for our ministry there. It was a joy to work with them and to learn how God is using them.

We were blessed with excellent translators in each place. We have learned that good translation is a vital element of the ministry.
God's goodness was evident in taking care of our wives when we were away.
Both Caleb and I got colds and had some intestinal issues that come with eating foreign food. Our wives were fine and had no emergencies when we were gone. We generally had access to the internet and so we were able to talk and frequently video chat with our wives.
Over the next few posts I'm going to share some individual stories of things that happened on the trip that will reinforce how God's goodness was with us all the time!